Fall is the perfect time to refresh and update the decor in your home or office. This season, consider incorporating deep wood grain elements to create a warm, cozy, and inviting atmosphere. One way to achieve this is by using deep wood grain tabletops, wall mounts, and bookshelves.
Starting with the tabletop, a eucalyptus finish adds a touch of elegance and sophistication to any space. The natural texture and warmth of the wood create a welcoming vibe. Whether you're working from home or hosting a small gathering, a deep wood grain tabletop sets the stage for a stylish and productive setting.
Moving on to the wall mounts, opt for eucalyptus designs that complement the overall theme. These wall mounts can be used for hanging your favorite artwork, photographs, or even floating shelves. Not only do they add functionality, but they also serve as focal points, adding depth and character to the room.
To complete the look, incorporate deep wood grain bookshelves. These eucalyptus bookshelves provide an excellent opportunity to showcase your favorite reads, collectibles, and personal treasures. The rich hues and intricate pattern of the wood grain add visual interest and become a statement piece within the space.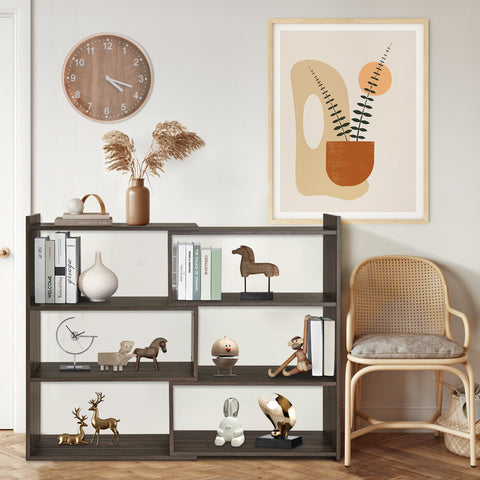 To enhance the autumnal feel, accessorize the deep wood grain elements with warm, earthy tones. Consider adding cozy blankets, cushions, and rugs in seasonal colors such as burnt orange, mustard yellow, or deep red. This combination creates a harmonious and inviting ambiance, perfect for curling up with a book or brainstorming ideas.
By incorporating deep wood grain elements in your tabletops, wall mounts, and bookshelves, you can transform your home or office into a true retreat for fall season. The natural beauty and warmth of the wood, coupled with the right accessories, will create a space that is both stylish and comfortable. Embrace the autumn vibes and let the deep wood grain be the centerpiece of your interior design.
Kaboon is having Thanksgiving Sale at a special discount for products in eucalyptus color. Don't miss this chance to refresh your home before winter! For more info, please visit:
https://www.kaboondesk.com/collections/discount-special-promotion