Floating shelves can assist you in creating anything from a book corner to a spot to place your phone and wallet when you are in the restroom. There are a variety of shelves available. They can make full use of wall and small corners to make the space more fulfilling. The most astounding thing about shelves is how practical they are. You may put shelves anywhere in the house without worrying about visual impact.
For instance, the wall directly over the sofa's back. The wall behind the sofa may appear empty, especially in a small living room. To fill this space, you can add floating shelves. The one-layer floating shelves are the most basic. It would look fantastic if you framed some lovely paintings with black frames and displayed them on a shelf with fewer holes in the wall needed to be drilled. If you want to change the old paintings to new ones, it is very convenient.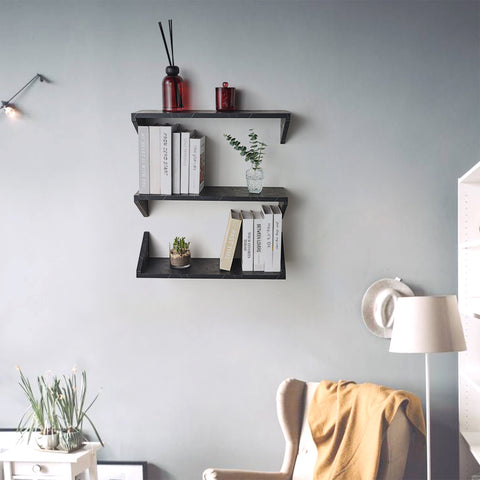 The TV back wall is the second potential location for installing shelves. On the floating shelves, you can display some ornaments, paintings, and nice vases. Contrary to how the wall behind the sofa is decorated, the TV wall shouldn't have too many elaborate decorative paintings because this interferes with the enjoyment of watching TV. A TV cabinet with two shelves in the same color will appear more integrated.
The bedroom comes next. A row of shelves at the corner is a good option for bedside storage, especially in tiny bedrooms where a bedside table may not fit. It should be mentioned that it is recommended to install floating shelves from bottom to top, being mindful of the layer height to prevent banging your head when getting up.
Finally, the kitchen. Kitchens that are small to medium in size could use floating shelves mounted on the wall. The kitchen will seem more attractive with floating shelves because they are simple to install and have a great capacity. In order to accomplish the cleaning in the lowest amount of time and with the least amount of work, shelves can be built above the cleaning area to store relevant products. The shelves may appear cluttered if the things are small and dispersed, so you can decorate with some flowers and foliage.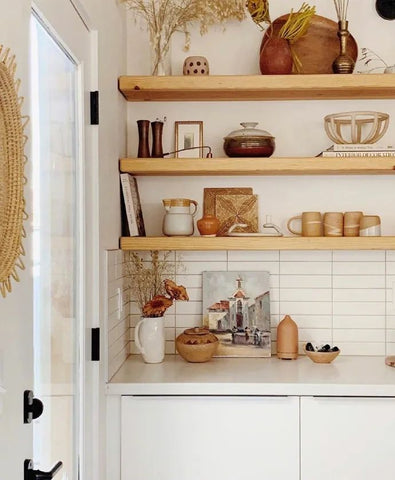 If you are unsure of how to decorate with your wall, just install a pair of floating shelves. It will look fantastic definitely.
For more info, please click:
https://www.kaboondesk.com/collections/floating-shelves