Marble is a magnificent natural stone that has been revered for centuries for its unparalleled beauty and versatility. One of the most captivating features of marble is the intricate cloud-like patterns that adorn its surface, forming swirling veins in various colors and adding a touch of elegance to tabletops and wall mountings.
The Artistry of Marbled Cloud Patterns
Each piece of marble is unique, with its distinct veining patterns, color variations, and crystalline structures. The naturally formed cloud patterns give marble an ethereal appearance, reminiscent of wispy clouds floating across the sky. These patterns range from subtle and delicate to bold and dramatic, offering endless possibilities for artistic expressions in interior design.
Color Palette
Marbled cloud patterns embrace a wide spectrum of colors, making them suitable for various design aesthetics. Classic white Carrera marble, with its soft, gray veins, exudes a timeless charm and pairs well with both traditional and contemporary themes. For a more dramatic effect, black marble with striking white or gold veins adds a touch of sophistication and opulence to any space.
Application on Tabletops
A marble tabletop with marbled cloud patterns serves as a focal point in any room. Its smooth and cool surface adds a luxurious feel, perfect for dining or entertaining guests. The natural patterns of the marble create a sense of movement and depth, enhancing the overall aesthetics of the space. Whether used as a kitchen countertop, a dining table, or a coffee table, a marbled tabletop elevates the ambiance, making it both functional and visually pleasing.
Wall Mountings
Incorporating marbled cloud patterns into wall mountings, such as shelves or frames, is an excellent way to infuse elegance into any living space. A marbled wall mounting creates a striking backdrop for decorative objects or artworks, enhancing their visual impact. It adds texture and depth to the walls, transforming them from plain surfaces to striking design elements. The combination of natural stone and artistic cloud patterns creates a visually stimulating environment that captivates the eyes.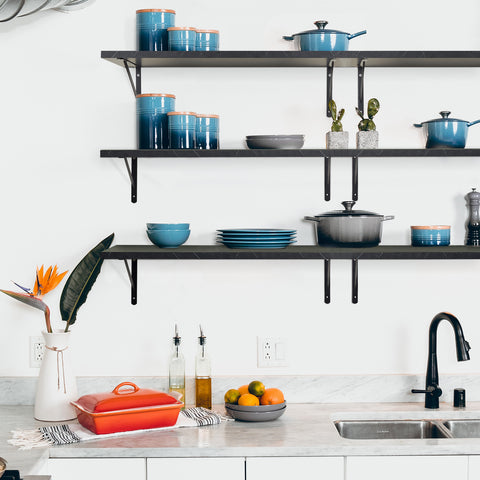 Maintenance and Care
While marble is durable and long-lasting, it requires regular maintenance to preserve its beauty. To maintain the luster of the marbled cloud patterns, it is essential to clean the surface with a mild soap solution and avoid using abrasive cleaners. It is also advisable to seal the marble periodically to protect it from stains and moisture.
Cloud patterns on tabletops and wall mountings introduce a touch of sophistication and elegance to interior spaces. The enchanting beauty of these natural patterns, combined with a rich color palette, allows homeowners to create unique and visually captivating environments.
Kaboon has several cloud atlas products for your choice. For more info, please check:
https://www.kaboondesk.com/collections/cloud-atlas-black