Halloween, the much-awaited holiday filled with thrills and chills, is just around the corner. Along with costumes and treats, one can also spruce up their desktop and bookshelf with hauntingly delightful decorations. In this blog post, we will explore some creative ideas to add a touch of Halloween spirit to your workspace or study area.
Eerie Bookshelf Dress-Up
Transform your bookshelf into a hauntingly eerie scene by arranging spooky decor items strategically among your books. Place small pumpkins, spooky figurines, or haunted house models amidst the shelves, creating an atmosphere of mystery and enchantment. You can even add flickering LED candles or string lights to give it an eerie glow.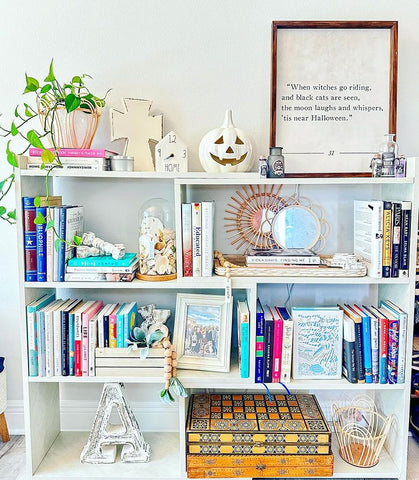 Photo by @books_wine_and_sunshine on IG
Wickedly Wonderful Wallpaper
Change your desktop wallpaper to a Halloween-themed image. Choose from a variety of options, such as creepy haunted woods, mystical jack-o'-lanterns, or witchy silhouettes against the moon. This simple yet effective change will instantly set the Halloween mood whenever you turn on your computer.
Macabre Mouse Pad
Add a touch of Halloween to your workspace with a mouse pad featuring Halloween motifs. From cute ghosts and bats to spooky skull designs, there are numerous options available to suit your unique style. This small addition will enhance your workspace's Halloween charm and make your daily tasks more delightful.
Terrifying Trinkets
Sprinkle some Halloween magic on your desk by placing small spooky trinkets or miniatures. A tiny witch's broomstick, a mini skull, or a ghostly figurine can add a whimsical touch to your work area. These small decorations are unobtrusive yet bring a dash of Halloween spirit to your desktop.
Wicked Wall Hangings
Hang Halloween-themed prints, posters, or wall decals near your workspace or bookshelf. Choose from vintage horror movie posters, eerie forest landscapes, or artistic representations of black cats or witches. These wall hangings will create a captivating focal point and immerse you in the ambiance of All Hallows' Eve.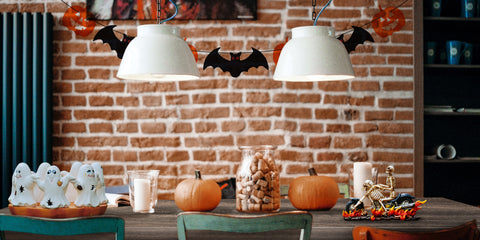 Infusing some Halloween magic into your desktop and bookshelf decorations can make this spooky season even more enjoyable. From eerie bookshelf arrangements to wicked desktop wallpapers and terrifying trinkets, there are endless possibilities to unleash your creativity. So, embrace the spirit of Halloween and transform your workspace or study area into an enchanting realm of bewitching delight.
Remember, let your imagination run wild, and have a spooktacular Halloween celebration!
Kaboon is having a Halloween promotion. You can save UP TO 20% for tabletops and shelving units, and there's an additional discount on subsequent orders.
For more info, please check:
https://www.kaboondesk.com/collections/discount-special-promotion