The study room is a crucial space in the home. Normal bookshelves are beautiful and come in a variety of styles, adding further decoration to the room. However, the drawbacks of mismatched size and fixed storage capability could result in space waste. Therefore, it is important to carefully measure the height, breadth, and depth of the space where the bookshelves will be installed before making a purchase. But our expandable bookcase effectively addresses this issue.
Our 4-tier shelving unit features a flexible retraction design with three storage layers, capable of retracting from 30-55 inches in wide. The two separate sections of the shelf can be easily pushed and pulled to adjust the available storage space and length, or even transformed into a right-angle shelf to fully utilize the corner space. It is a perfect match for any living room, study room, bedroom, or hallway, as it not only makes the room appear more spacious but also saves you money from custom-made orders.
The left-right crossover design enhances the overall balance of the shelf, making it stable and still on the ground. You can place it against a wall or in a corner. Each shelf layer can hold up to 100 lbs, allowing you to display books and ornaments, as well as souvenirs and green plants, freeing up space in your rooms and offices and creating a more comfortable environment.
This versatile shelf unit is quick and easy to assemble. Our package includes detailed, step-by-step instructions and all necessary hardware, ensuring a hassle-free assembly process. Simply assemble the boards into two separate parts of the shelf following the given order, and then bring the two parts together. Thanks to its retractable design, you can place the shelf anywhere you like.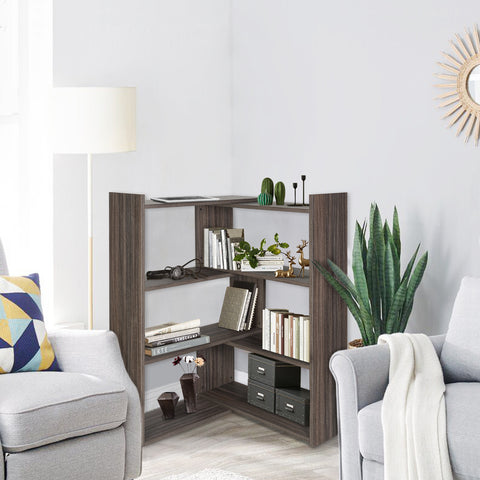 If you are interested, please check the link to for more info. Currently it is on sale for 20% discount:
https://www.kaboondesk.com/collections/kaboon-new-arrival-discount